What is a physical termite barrier ?
A  physical termiate barrier is a layer of material that is added under the slab, during construction of a new property or extension to a property. It creates a physical barrier that is impenetrable for termites to stop them from entering your home.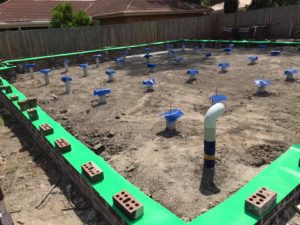 Building slabs (even those built to modern Australian standards) can sometimes crack, allowing termites to enter your home from beneath, undetected. If this does happen, you may not notice the infestation until the damage is irreversible which makes the investment in a physical termite barrier very worthwhile.  The physical termite barrier will offer long-lasting protection for your property without the need to continually top it up with additional chemicals.
A physical termite barrier is a layer of protective material underneath the slab of your home during construction.
The barrier prevents termites from accessing your home via underground tunnels through the cracks in your slab that develop over time.
The physical termite barrier is long-lasting and will remain in place, protecting your property.
The barrier does not need to be continually topped up with additional chemicals.
Barriers can also be applied to new rooms or extensions to your home
To install a physical termite barrier in your new build, or for an inspection if you have one in your home, contact Joe now.